Non-ionic Nano Silver Colloidal (AG 25 PPM) 300ml - Vitacolloids Poland
Availability:
high amount
Dispatched within:
3 days
product unavailable
add to wish list
Description
Non-ionic Nano Colloidal silver has the highest purity (99.999%) in silver. Although in the case of skin lesions, most often reach for lavender oil, colloidal silver, thanks to its optimal bioavailability, is a great alternative here.

Pharmaceutical glass bottle.
The non-ionic form of silver is safe for people.
Nano colloid Vitacolloids (not to be confused with commonly available cheaper versions of ionic silver colloids) is not sensitive to light, does not change color under its influence.
The patented shape of the nano molecule - a flat shape increases the active surface many times.
No chemical pollution.
Concentration 25 ppm - exactly the same as Proaktiv AG250 over 2 times more than Biomedica AG 100, which until November 2014 was sold in pharmacies as a drinking product.

Comparison of colloidal Vitacolloids with other products on the market: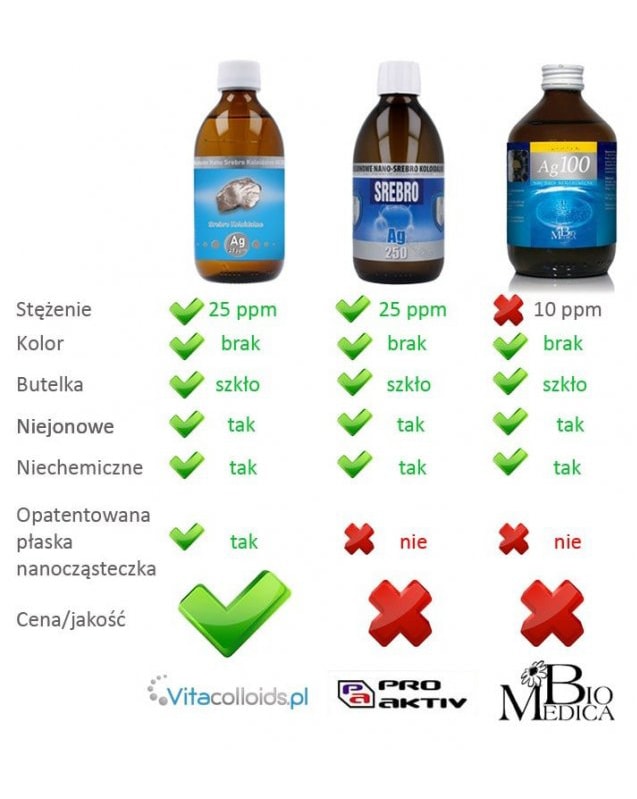 Color - Nicoon 25 ppm silver is transparent and looks like water. Silver from other manufacturers react to light (change color) which indicates that they are ionic silver (less safe for people).

Nano-shape of the molecule - Our colloids are manufactured based on the patented physics method of Maciej Bieguński, which guarantees the flat shape of the nano molecule. How does this affect the nano colloid properties? The flat nano particle perfectly adheres to the surface on which it operates, thanks to which the colloidal active surface is increased many times.

 

 

Components:
Aqua, Colloidal Silver (Nano) 25ppm

Capacity:
300 ml (glass bottle)

Usage:
It can be spread in large quantities on the skin. Changed places can be sprayed with colloidal silver, rub with a cotton swab or put a compress. Silver water should be applied to the skin by means of compresses, e.g. sterilized gauze, or possibly with a spray. It can also be applied directly to the skin. To get the maximum effect, remember that colloidal silver needs time to start working, so let silver affect a minimum of 20-30 minutes for the place it was applied for. During this time, do not wash it, do not put any creams, ointments, make-up, etc.

 

Manufacturer

PHU ROSNETul. Łowicka 996-200 Rawa Mazowiecka

 

Expiration date:
All offered products are fresh unless otherwise stated in the offer.
Upon request, we provide the exact expiration date by e-mail or by phone.
Shipping costs The price does not include any possible payment costs
Product reviews (0)